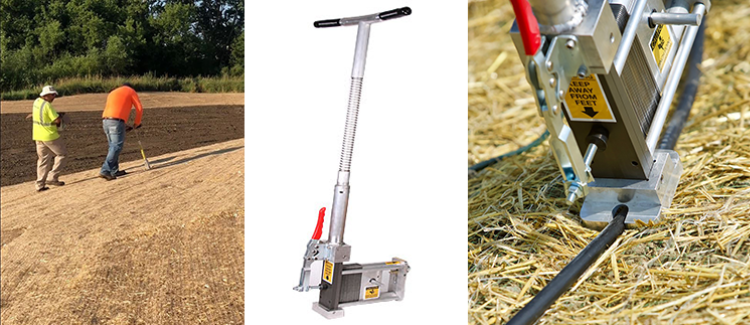 Staple Wasp has engineered a better way to install erosion blankets, landscape fabrics, all forms of road fabric, and drip line hoses. They did so with the goal of making the installation process faster, using less labor, improving installation quality, and saving the backs and knees of the installation team along the way.
The Staple Wasp Staple Gun was designed to provide a lightweight and dependable solution for ECB and fabric installation. The Staple Wasp, constructed of lightweight and durable material, is designed to meet the demands required of equipment that's used daily in the field. It is a great asset to your team's site production, safety, and worker well-being. Save your backs, knees, time and money with Staple Wasp.
Dimensions of the gun: 42" height x 14" length x 16" curved handle width / 3 ½" at base
Weight of the gun: 13.5 lbs.
Staple magazine capacity: 1 clip of 50 steel or galvanized staples
Material used: Aluminum and Hardened Steel
If a part on the Staple Wasp wears out, it is 100% replaceable, so you can utilize your Staple Wasp tool long-term.