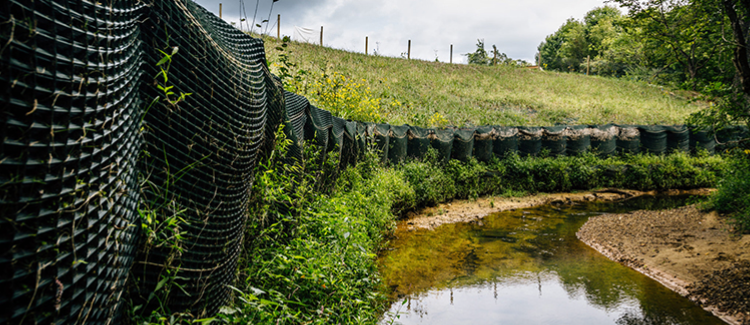 SCOURLOK - Engineered Bank Stabilization System
SCOURLOK is a robust Engineered Bank Stabilization System designed to resist extreme hydraulic stresses and protect shorelines and embankments while promoting vegetation. It was developed for applications that need below water scour protection in addition to slope stabilization and erosion control provided by ARMORMAX and PYRAMAT Engineered Earth Armoring Solutions.
This system can be utilized for stream banks, canals, lake or pond banks, and roadway or highway embankments.
Features & Benefits of SCOURLOK:
Enhances water quality by increasing pollutant and nutrient removal
Yields a vegetated solution that is more aesthetically pleasing than traditional hard armoring solutions
Vegetating pockets can be filled with a mulch/soil mixture or other media to sustain plant growth
Resists extreme hydraulic stresses, protecting vegetated and un-vegetated shoreline applications
Can be installed below or above water to fully armor the entire shoreline
Units can easily be connected and contoured to accommodate projects of any size