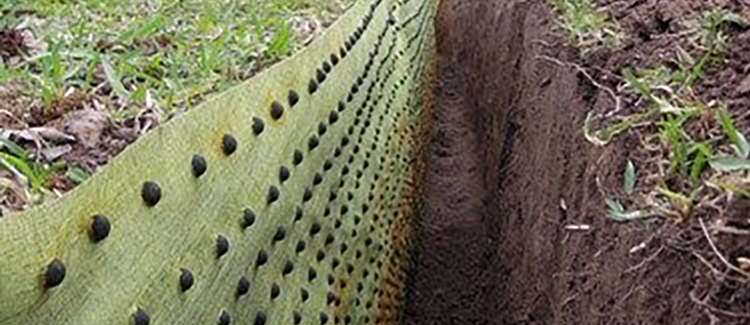 BioBarrier Root Control System or BioBarrier Weed Control System protects against roots or weeds growing where they're not wanted. BioBarrier is guaranteed to prevent roots from crossing its protective membrane, eliminating long-term costs from clogging or fracturing caused by roots. With a permeable, non-toxic design, BioBarrier protects investments without impeding infiltration or drainage which maintains optimal system performance over time. Plus, BioBarrier remains permeable to air, water and nutrients to encourage healthy vegetation.
The nodules on the durable geotextile drainage fabric contain a non-systemic herbicide that simply creates a zone around your hardscape and landscape investments that inhibits root growth. This herbicide will not affect the plant or surrounding vegetation.
Quick and easy to install, the flexible fabric design can fit any project shape or dimension, including vertical, horizontal and surround installations. Applications include separation and protection for roads, landscaping, sidewalks, underground pipes, building foundations and more. BioBarrier has also been successful against certain varieties of Bamboo.