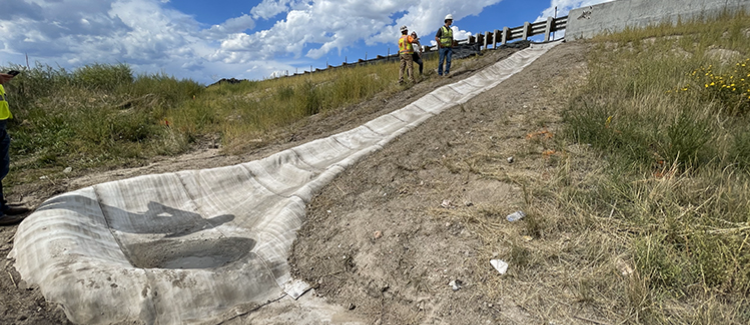 Concrete Canvas (CC) is a unique solution for erosion control and containment. It is part of a revolutionary class of construction materials called Geosynthetic Cementitious Composite Mats and Barriers (GCCM/Bs).
CC is a flexible, concrete filled geosynthetic, that hardens on hydration to form a thin, durable, water proof concrete layer. Essentially, it's concrete on a roll that can be installed 10-times faster than conventional concrete solutions. Concrete Canvas allows concrete installation without the need for plant or mixing equipment while also reducing vehicle movements and contractor burden. Simply unroll and add water.
Concrete Canvas consists of two interconnected layers of geotextile that encapsulate a specially formulated dry concrete mix. An LLDPE geomembrane backing ensures the material has very high impermeability. CC can be hydrated either by spraying or by being fully immersed in water.
Concrete Canvas combines the impermeability of a geomembrane with the protection and durability of concrete. CC can be installed as rapidly as conventional geosynthetics and 24 hours from hydration will cure to create a hard-wearing concrete canal lining which is ready to use.
Concrete Canvas is used in a wide range of erosion control applications, including:
Cable Barrier/Guard Rail Weed Suppression
Ditch Lining
Slope Protection
Berm Lining
Remediation
Water Conveyance
Weed Suppression